Amplify your ability to lead future generations into a transformative relationship with Christ.
What is Amplify Commitment Day?
You can only do so much within your limitation of time and capacity. If you want to make a greater impact for generations to come, you can partner with the work of God through Whitehill Church of Christ. We are only where we are because of 100 years of faithful Gospel service from those who have come before us. Now it is our turn. Amplify your ability to lead future generations into a transformative relationship with Christ.
In 2009 Whitehill recognised that a special focused period of giving can bring great impact and transformation in the lives of others. This generosity project has become an annual event that has unleashed dozens of projects here and around the world. Our goals are to:
To raise extraordinary funds to facilitate new groundbreaking or larger projects that enhance or complement existing ministries and goals.
To encourage believers to grow in faith through abundant generosity. Discipleship is revealed as God's people step out in faith to sacrifice and give towards kingdom goals.
Participation in giving, however large or small allows us to unite together to accomplish projects far bigger than we could do alone.
To bring transformation through projects both overseas and in our local community.
Where have past gifts been invested?
Over the last decade, a broad variety of projects have been unleashed. Past local projects include school chaplaincy, Bibles, outreach events, AV equipment, debt centre, building works, training courses for young people and marriage seminars.
Overseas projects have included projects in Zimbabwe, Vanuatu and the Solomons Islands which include infrastructure projects like bore wells and building projects along with projects to benefit people like pastors, child welfare and community development projects.
In 2022 we supported seven different projects including clean water and pastor support in Zimbabwe, the construction of a Bible translation house in the Philippines, local outreach events and services, local school chaplaincy and safe ministry spaces at Whitehill.
See the video below to hear more about what projects were funded through Beyond Commitment Day 2022.
What are the Beyond 2023 projects?
This year we are excited to have 8 projects that will amplify our impact in three core areas (Leaders, Local Mission & Community Spaces). Over the coming weeks, we will release a new video here to share more details on each of these projects.
More details for each project can be found below.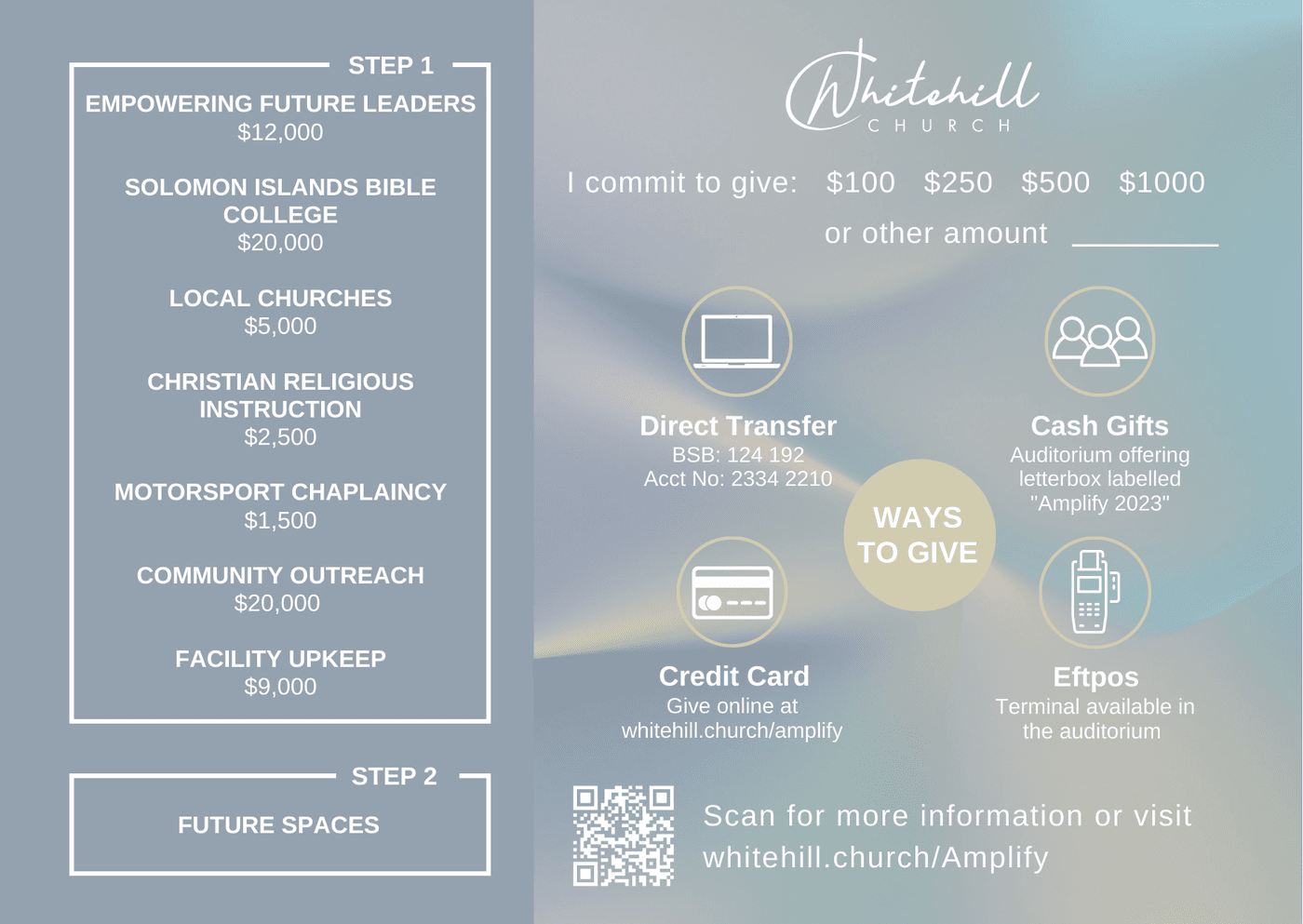 Leaders
Empowering Future Leaders - $12,000
Whitehill has a history of fruitful internship programs which have seen young leaders trained and equipped for ministry. Last year, Willow, Libby and Josh were all raised up and released into ministry roles. Willow is serving as a Student Pastor at Whitehill, Libby is serving full-time as the Youth Pastor of Salvo's Bundamba and Josh is serving his local church and mission networks in a volunteer capacity. Whitehill's heart is to continue empowering the future leaders of the church.
$12,000 will enable Whitehill to continue the internship program in 2023 and invest more broadly in many of our other volunteer leaders. The future leaders fund will be used to sponsor leaders who may wish to attend camps and conferences to further their service and growth in the Kingdom of God. Specifically, this fund will be used in 2024 to sponsor the next generation leaders to attend relevant ministry camps. Sponsorship of these leaders' camp fees will empower them to serve in a more sustainable way as we raise up the next generation.


Solomon Islands Bible College - $20,000
Last year Whitehill supported global mission work in the Philippines and Zimbabwe. This year Whitehill has set a $20,000 giving target to support mission work in the Solomon Islands. Dan and Kathy Leadbetter will be leading a team of Whitehill volunteers on a trip to the Solomons in September to help the One Pusu Bible College with current property projects. Some of these projects include;
Completing the student house with architraves, flyscreens, a kitchen, a heated water tank, a solar lighting system and painting.
Assist with the construction of a new chapel.
Assist with the construction of the male bathroom block – currently the male students are using the bush.
Development of a library borrowing system.
Local Churches - $5,000
Many smaller churches have closed since the pandemic or are currently struggling. As a major church in our region and with the abundant blessings God has provided us with, we feel a sense of responsibility to support, encourage and foster strong relationships with smaller local churches.
Local Mission
Christian Religious Instruction - $2,500
Christian Religious Instruction (CRI) in Ipswich costs approximately $20,000 annually for the curriculums and outreach events.
Whitehill already has a strong partnership with CRI as several of our congregation members teach classes in local state schools throughout the week. CRI has suggested that each local church involved in CRI also contribute $2,500 toward the cost of annual curriculums.
Motorsport Chaplaincy - $1,500
Motorsports Ministries is an organisation conceived, developed, and operated to provide for the spiritual and emotional needs of the people involved in professional and amateur automobile racing. Motorsports Ministries attempts to encourage individuals to understand the essence of life from a Christian viewpoint.
Charlie Sandham, a member of Whitehill, has been a part of the Motorsport Ministries chaplaincy team for many years. Charlie is a trusted and Godly man who offers wisdom and care to competitors and their families. $1,500 will help to cover some of the costs of Charlie's travel to the motorsport events this season.
Community Outreach - $20,000
The city of Ipswich is growing rapidly, and it is important for Whitehill to make new and meaningful connections with our community. Whitehill has done this by hosting outreach events and services which are a first point of connection for those who do not know Jesus or attend a local church. Last year these events included the Life Series, At the Movies, Family Fun Day, Kids Holiday Club and Carols.
Each of these events has a substantial cost and $20,000 would give us the capacity to continue hosting effective events.
Community Spaces
Facility Upkeep - $9,000
Whitehill Church is incredibly blessed with a large multi-purpose facility that serves not only our Sunday services, but also many ministries and programs throughout the week. A facility of this size requires constant upkeep and attention to ensure that we are stewarding our space well for effective Gospel ministry.
In the previous few years, the congregation has given generously to commitment day offerings which has enabled us to complete many necessary upgrades such as new auditorium chairs, stage lighting, AV equipment for life group rooms and a new CCTV security system.
This year, $9,000 will allow us to replace some of the failing stage lights, the outdated PC and digital mixer in the multi-purpose hall and purchase acoustic treatment to improve the quality of our video content.
Step 2 Project - Future Spaces
Any amount given over and above the $70,000 target for Step 1 will be used to fund the development of Whitehill's future spaces.
Whitehill's current facility was built more than 20 years ago by a generous community of faith. Now we also have an opportunity to make further property developments and amplify our impact for generations to come.
At the heart of any future developments is the vision of being a central hub in our local community. Several ideas have been raised over the last few years that would serve this vision and create spaces for meaningful connections with our community. An idea that is currently being prayerfully considered is a kids play space that would enable young families to connect over a coffee while their children play in a safe environment.
How can you give to Amplify 2023?
Everyone is asked to prayerfully consider the amount God can provide through you to release these projects from dream to reality. God provides so much to us and calls each one to generously give. We have a pledge day on Sunday 27th August at Whitehill as we dedicate ourselves to God. So whilst most of us cant achieve these projects on our own, it is together, as one church, that God can do amazing things. We believe by faith that God can do more than we imagine. Can God use you as a conduit for his work?
There are four ways to give: direct bank transfer, cash, credit card online or eftpos in person.
1. Bank transfer
Gifts can be directly made (without any fees) through your personal Internet banking. Please ensure that you put "Beyond 2022" into the reference line to help clearly identify gifts.
Account Name: WHITEHILL CHURCH SPECIAL
BSB: 124 192
Account Number: 2334 2210
Reference: Amplify 2023
2. Credit Card
Click the Credit Card link below for the payment portal. Enter your gift amount; Click the giving "to" box to select the "Commitment Day" fund. Please note this method of giving does attract credit card fees from banks (2% and $0.30 per transaction).
3. cash
Cash gifts can be brought to the church during office hours or during Sunday services. These can be left at the office or deposited into the black offering letterbox at the entry to the auditorium. Gifts should be enveloped and clearly labelled as "Amplify 2023". Envelopes are available at giving stations.
4. Eftpos
An EFTPOS terminal is available for us at the back of the church auditorium.