What is Beyond 2022 Commitment Day?
How do you change people's lives? What would you invest to see a person rescued from poverty? How can we empower Whitehill to take greater steps forward? We all know that growth means change, so we cannot stand still and do nothing if we desire to move forward. In 2009 Whitehill recognised that a special focused period of giving can bring great impact and transformation in the lives of others. This generosity project has become an annual event that has unleashed dozens of projects here and around the world. Our goals are to:
To raise extraordinary funds to facilitate new groundbreaking or larger projects that enhance or complement existing ministries and goals.
To encourage believers to grow in faith through abundant generosity. Discipleship is revealed as God's people step out in faith to sacrifice and give towards kingdom goals.
Participation in giving, however large or small allows us to unite together to accomplish projects far bigger than we could do alone.
To bring transformation through projects both overseas and in our local community.
Where have past gifts been invested?
Over the last decade, a broad variety of projects have been unleashed. Past local projects include school chaplaincy, Bibles, outreach events, AV equipment, debt centre, building works, training courses for young people and marriage seminars. Overseas projects have included projects in Zimbabwe, Vanuatu and the Solomons Islands which include infrastructure projects like bore wells and building projects along with projects to benefit people like pastors, child welfare and community development projects.
In 2021 we supported seven different projects including local school chaplaincy, streaming infrastructure, ministry internships, a new church sign and building works in a Solomon Islands Bible college.
What are the Beyond 2022 projects?
This year we are excited to have 8 (really 9) projects that will bring significant impact in three core areas. over the coming weeks we will release a new video here to share more detail on these projects.
Firstly we will bring impact overseas in Zimbabwe (Clean Water) and the Philippines (Translation house).
Secondly, we will bring impact to our local community through community outreach events (eg. Holiday clubs, Community picnics and outdoor carols), equipment to upgrade our auditorium for services and directly supporting our local high school chaplain.
Lastly, we are looking beyond the present into the future which brings projects to improve safety for our facility, equipping more young leaders for the future and funding planning into the future of Whitehill so that our impact in our local community remains current and positive.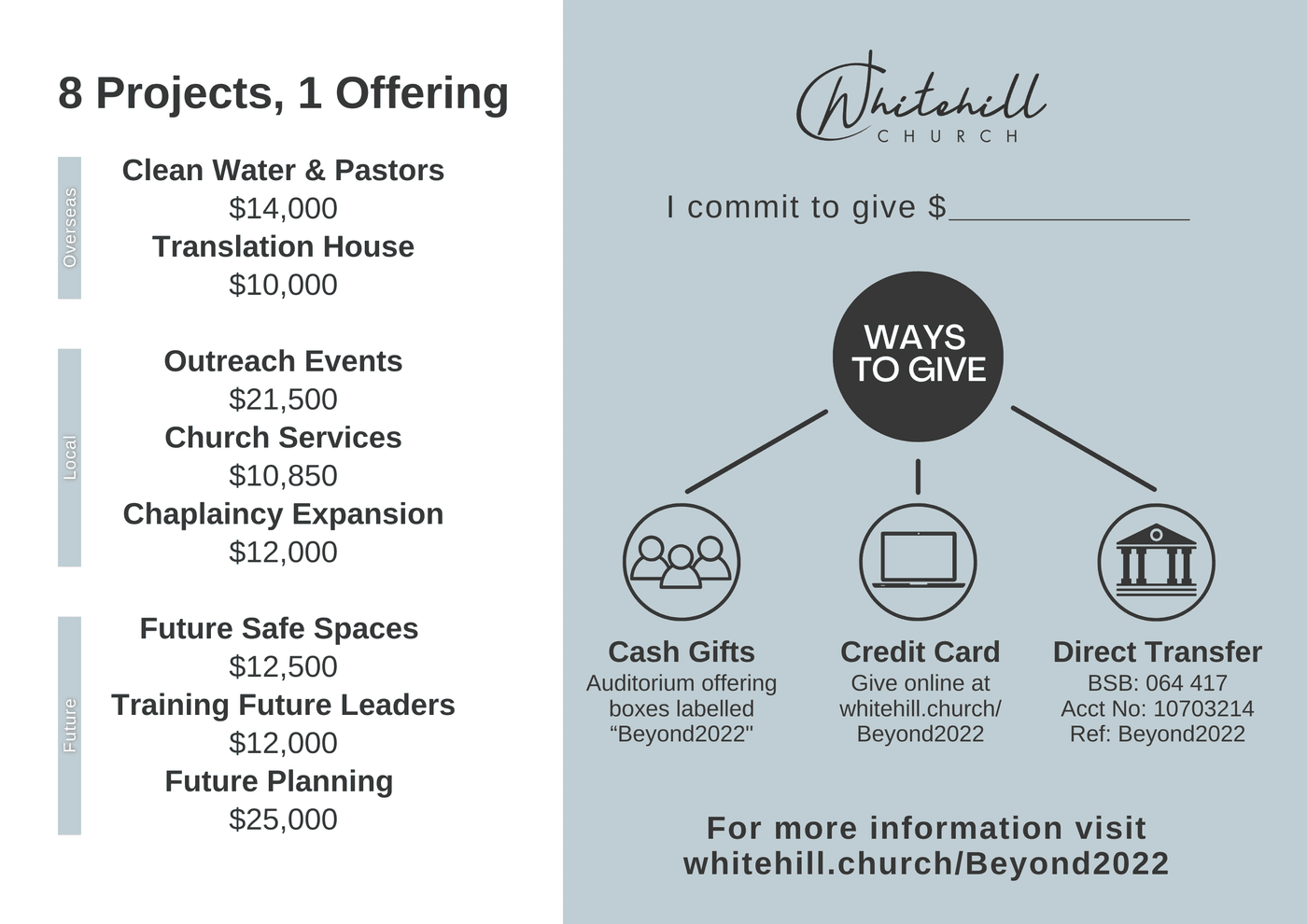 Beyond Our Borders Projects (Zimbabwe and Phillipines)
Beyond our Local Outreach Projects
Beyond Into the Future Projects
How can you give to Beyond 2022?
Everyone is asked to prayerfully consider the amount God can provide through you to release these projects from dream to reality. God provides so much to us and calls each one to generously give. We have a pledge day on Sunday 7th August at Whitehill as we dedicate ourselves to God. So whilst most of us cant achieve these projects on our own, it is together, as one church, that God can do amazing things. In the last two years, together, God has fully funded every project! We believe by faith that God can do more than we imagine. Can God use you as a conduit for his work?
There are three ways to give: Internet giving, Gpay or Credit Card giving and direct in-person donations to the church
1. Internet gIVING
Gifts can be directly made (without any fees) through your personal internet banking. Please ensure that you put "Beyond 2022" into the reference line to help clearly identify gifts.
Account Name: WHITEHILL ALLOCATED GIFTS
BSB: 064 417
Account Number: 1070 3214
Reference: Beyond2022
2. Gpay or Credit Card
Click the Gpay or Credit Card link below for the payment portal. Enter your gift amount; Click the giving "to" box to select the "Commitment Day" fund. Please note this method of giving does attract credit card fees from banks (2% and $0.30 per transaction).
3. Direct Giving
Cash gifts can be brought to the church during office hours or during Sunday services. These can be left at the office or deposited into the black offering letterbox at the entry to the auditorium. Gifts should be enveloped and clearly labelled as "Beyond 2022". Envelopes are available at giving stations.