2023 Date Claimers for Operation Christmas Child
Monthly Donations 2023
In What Ways Can I Be Involved with Operation Christmas Child?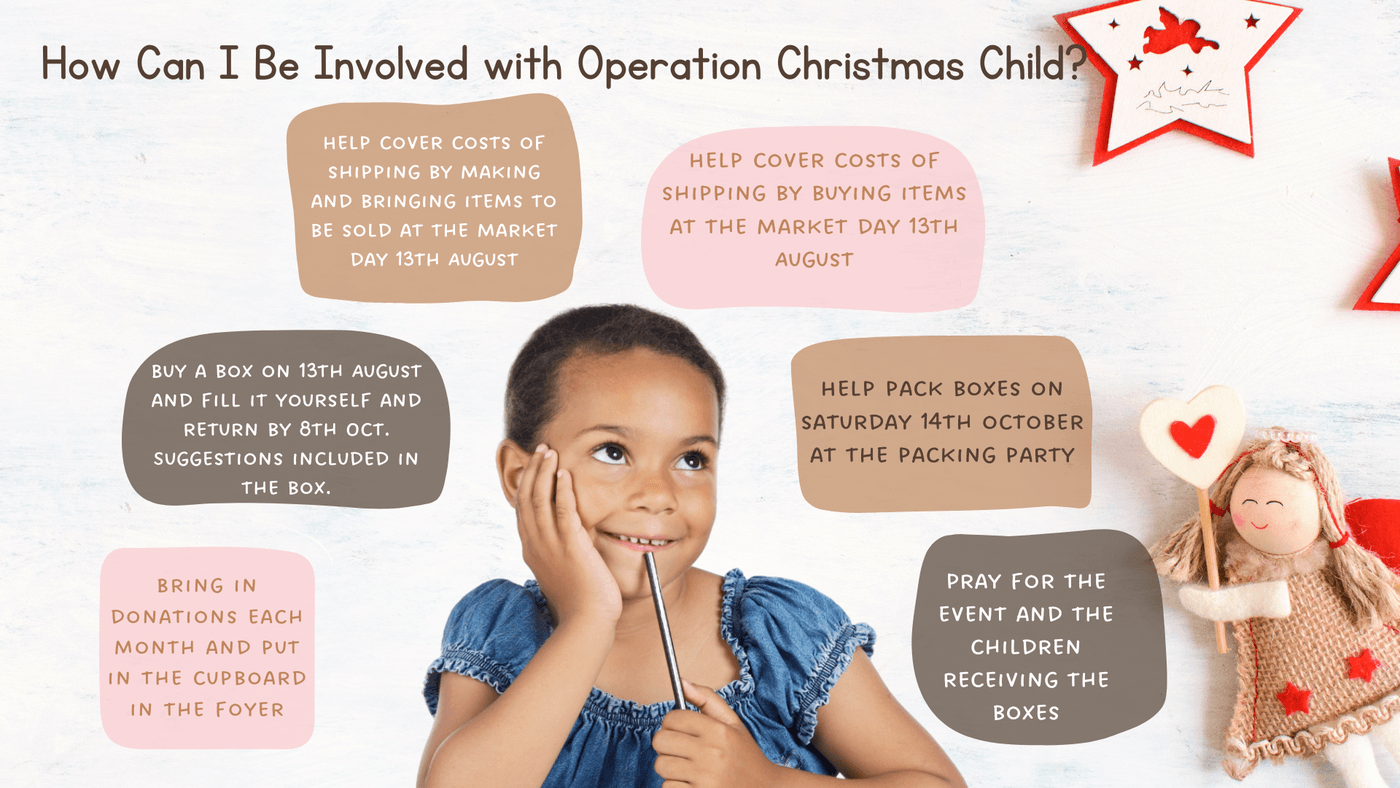 WHAT IS OPERATION CHRISTMAS CHILD?
Operation Christmas Child is a hands-on way for us here at Whitehill to bless children in need around the world by filling shoeboxes with toys, hygiene items, school supplies and other fun gifts.
There are several categories of items to be donated so each month we have a different category to bring in to the church. After all the categories have been collected - it is time for a 'Packing Party' (held in October of each year) as we pack and pray for each box as it is prepared. The boxes are collected from Whitehill and sent to the OCC processing centre in Australia and then the gift-filled shoeboxes are distributed to children in over 100 countries in the Name of Jesus Christ.
After receiving a shoebox gift from Operation Christmas Child, children have the opportunity to enrol in The Greatest Journey – a dynamic, 12-lesson Bible study course that guides children through what it means to faithfully follow Jesus Christ. The mission of Operation Christmas Child is to provide God's love in a tangible way to children in need around the world, and together with the local church worldwide, to share the Good News of Jesus Christ. Australia and New Zealand have packed over 270,000 shoeboxes that are sent to children in need all over the world. Globally, Operation Christmas Child has packed over 10.5 million shoeboxes that are shipped to over 100 receiving countries worldwide. This means that through the shoeboxes you packed, millions of children hear about the Good News and Great Joy of Jesus Christ.
The cost of postage and processing is $12 per box - Why $12?
A donation of $12 per shoebox gift is critical for Operation Christmas Child. It provides for:
Collection
After shoebox gifts are dropped off at hundreds of locations around Australia and New Zealand each year in October, trucks transport the precious cargo to different processing centres.
Processing
Processing centres around Australia and New Zealand are secured so that thousands of volunteers can inspect the shoebox gifts and prepare them for international shipment.
Shipping to Over 100 Countries
Ships and trucks transport millions of shoeboxes to the countries where they will be distributed. Once there, local churches use many modes of transportation to get them to children in need as a tangible expression of God's love.
Gospel Materials
Your $12 donation to Operation Christmas Child, a project of Samaritan's Purse, helps us train and equip local churches to use our Ministry Partner Guide. This resource shows churches how to share the Good News of the Lord Jesus Christ in a child-friendly way.
Your donation also provides The Greatest Gift Gospel Booklets, which are written in the children's language and distributed along with shoebox gifts.
Ready to make your $12 donation online?
You may give via EFT (electronic funds transfer).
Please make a transfer to our Special Giving Account BSB 064-417 Acc. 1070 3214 Ref. "OCC 2023". This method has no fees.
You may bring your Cash offering in an envelope labelled "Operation Christmas Child 2023" and place it in offering letterbox
For More Information
Email [email protected]